We are a Compounding Pharmacy located on the Gold Coast in QLD, owned and operated by a husband and wife duo, Pharmacist & Beauty Therapist. Together we have developed a range of pharmaceutical grade skincare products containing topical vitamins, peptides, AHA/BHAs and proven active ingredients. We also offer a range of private label vitamins & supplements and a professional range of products for use in clinic treatments. 
We offer an all inclusive private label skincare service with over 38 skincare products, 3 packaging options and 3 label templates so that the opportunities to design your own Private Label Skincare Product is endless…and the decisions are left in your hands. 

HOW IT ALL STARTED…
Jack Hammond, pharmacist and owner of ACPHARM  completed his Bachelor of Pharmaceutical science and Masters in Pharmacy degree in 2003. During his pre-registration period, Jack was working within a local pharmacy and found there was a market for customised medication and he helped to start up a small compounding section within the pharmacy. This attracted a lot of attention from alternative doctors/skin clinics & naturopaths etc. Jack soon realised he had a passion for compounding and went on to do further pharmaceutical training to extend his compounding knowledge including cosmetic research.
Jacks partner Samantha, was a beauty therapist and ran her own skin clinic from within a Medical Practice, performing skin treatments and other beauty procedures. Together, they realised one thing missing within the pharmacy/medical practice & skin clinic, was a medical grade cosmetic skin care range that was effective and affordable. Over 10 years ago,  together, with their combined knowledge of cosmetic compounding, medical knowledge and beauty therapy training, they sat down and came up with formulations for a full skin care range that would be available to sell to customers, clients and patients. The range became very popular and a lot of clients were getting amazing results. The word spread and we soon had local skin clinics contacting us to keep our products within their clinic. This is when the idea came along to create a 'private label range' which was available to skin clinics throughout Australia which would be customised and labelled with the clinics own logo/information. Over the years this became very popular and we had many skin clinics who were happy to have their own branded medical grade products to sell within their clinics where they could make a much higher profit.
Jack and Samantha Hammond, owners of ACPHARM  and creators of the private label range, still hold a very strong passion for cosmetic compounding, and still work with many of their original clinics from over 10 years ago. They look forward to keeping up to date with new cosmetic ingredients and products, and creating new and exciting formulations in the future.
Jack Hammond & Samantha Hammond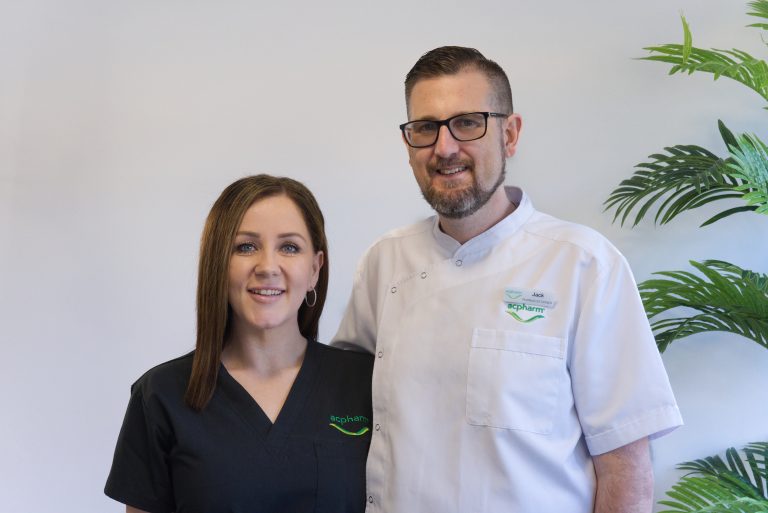 Our cosmetic laboratory is located at ACPHARM in Ashmore on the Gold Coast. ACPHARM is the largest compounding pharmacy in Australia, with over 1500sqm of dedicated compounding space. We have a purpose built cosmetic compounding laboratory, fitted out with stainless steel equipment, medical grade flooring and wall coverings & strict pharmaceutical guidelines. 
Our cosmetic lab is where we produce all of our skincare products. We have the ability to manufacture up to 10,000 products per week. We like to say our products are hand crafted, but we do have a bit of help with some of our equipment such as: cream mixers, emulsifiers, electronic mortar and pestles, precision balancers (scales) and many other handy tools and utensils.
To ensure a clean and safe lab environment, when compounding/manufacturing our products, our staff are required to wear full laboratory gear including a lab coat, hair nets, shoe covers and gloves. Our staff are fully trained by our cosmetic pharmacist and strive to provide accuracy and attention to detail.